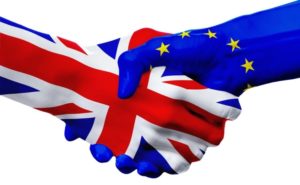 The UK has left the EU
The transition period
There is now a transition period until the end of 2020 while the UK and EU negotiate additional arrangements. The current rules on trade, travel, and business for the UK and EU will continue to apply during the transition period.
New rules will take effect on 1 January 2021.
You should prepare now for the post-Brexit situation.
What does Brexit mean for your trade and investments into the UK and into the EU?
How do you maintain optimal investment protection?
Nikos advises on the whole range of legal implications from the perspective of EU law, investment treaty law and WTO law. In cooperation with other dedicated law firms, he is also able to advice on the most optimal corporate structure.
Please fill out the Contact form if you wish to get in touch with me in order to discuss any matters.
The links below provide useful resources regarding BREXIT:
The future relationship between the UK and the EU
This statement sets out the Government's proposed approach to the negotiations with the EU about our future relationship (3 February 2020)
Prime Minister's address to the nation on leaving the EU
Prime Minister Boris Johnson addresses the nation as the UK leaves the EU (31 January 2020 Speech)
Article 50 Withdrawal Agreement
Attorney General's Statement on the Withdrawal Agreement
Nikos' blogposts on BREXIT:
The potential incompatibility of the arbitration clause in the Brexit withdrawal agreement (Practical Arbitration blog, December 6, 2018)
The UK's push for new trade deals: obstacles and opportunities (Practical Law Arbitration blog, February 3, 2017)
UK post-Brexit cannot escape the impact of EU law and of the Court of Justice of the EU(EFILA blog, September 26, 2017)
Brexit: Implications for the EU Reform of Investor-State Dispute Settlement (EFILA blog, April 12, 2016, written together with Sophie Nappert, 3 Verulam Buildings)